The Abraham Jakub Stern Foundation and Stanford Graduate School of Business Executive Education are pleased to announce the launch of the third edition of the Stern Leadership Academy, Central and Eastern Europe's premier leadership development programme for executives. Recruitment is open until 28 November. 

The Stern Leadership Academy is designed to supercharge the careers of experienced executives from the CEE region with at least ten years of professional experience, regardless of their industry or sector. 
Nearly 100 participants from Poland, Ukraine, Slovenia, Latvia, and Lithuania have already formed a vibrant community of changemakers in the two years of the programme's existence.The Stern Leadership Academy is currently recruiting forty leaders from the private, public and third sectors for its third cohort. 
The core of the programme is a sixteen-week online learning programme taught by instructors from Stanford University in the first collaboration of its kind in Central and Eastern Europe. They will leverage evidence-based academic research to teach participants actionable pathways for becoming resilient leaders ready to guide their organisations to greater growth. 
All forty participants' Stanford programme fees will be fully funded through the generosity of the Empiria & Wiedza Foundation. 
"We are looking for ambitious leaders who are passionate about making a difference in their organizations and communities," said Michał Kamiński, CEO of the Abraham Jakub Stern Foundation. "The Stern Leadership Academy is a unique opportunity to learn from world-class faculty, network with like-minded professionals, and gain practical, cutting-edge skills."
The Stern Leadership Academy aims to build a regional network of leaders across all sectors who are able to deploy cutting-edge theories of leadership, self-development and management to spearhead change in their organisations and in their home societies.  
Kamila Kurkowska, a participant in the most recent edition of the Stern Leadership Academy, said, "The Stern Leadership Academy was a life-changing experience. The biggest thing was the chance to exchange ideas and thoughts with people from completely different backgrounds and social groups than my usual ones. I really recommend this programme to anyone who wants to develop as a person and make a real difference in our society."
The core Stanford programme is led by Prof Jeffrey Pfeffer, a world-renowned expert on organizational behavior. Pfeffer's research focuses on power and leadership in organisations, evidence-based management practices, and the impact of workplace behaviours on employee health and well-being.
Other instructors include Prof Maggie Neale, director of the Women Leaders Program at Stanford Graduate School of Business; Bill Barnett, professor of leadership, strategy, and organization; and Charles O'Reilly, professor of management.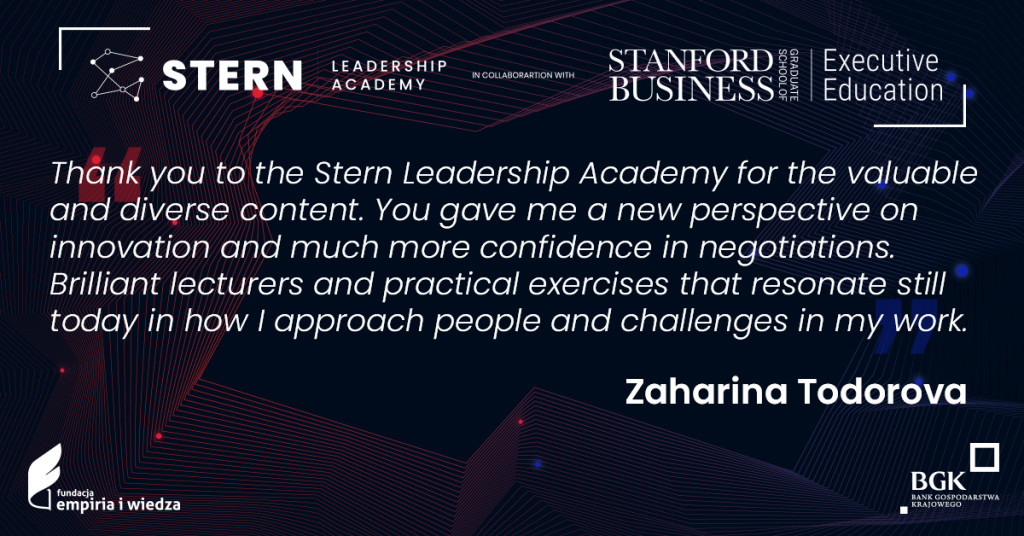 The Stern Leadership Academy programme also includes a bespoke in-person kickoff weekend in Prague, Czechia in early January 2024 and a closing session in Palo Alto, California in spring 2024. Participants described last-year's kickoff weekend in Vilnius, Lithuania as "life-changing" and "full of passion". 
Jan Pawelec, a civil servant with over twelve years of experience in public administration, emphasised the value of learning how to uncover what is invisible to the average person in the success of the world's largest companies. 
Olga Ivanova, who works in the Ukrainian third sector, highlighted the importance of making regional and international connections via the programme: "Despite the current turmoil in the world and our sometimes difficult shared histories, we were able to find many connections between people from Poland, Lithuania, the United States and Ukraine, which changed my perception of many things around me in Europe and beyond. Thanks to this – thanks to all these lectures, workshops and seminars – I was able to learn how to make the organisation I work for better, more stable and more sustainable."
The Stern Leadership Academy is organized by the Abraham Jakub Stern Foundation, with strategic support from the Empiria & Wiedza Foundation and the honorary patronage of the Polish Development Bank. 
In addition to the Stern Leadership Academy, the Stern Foundation undertakes educational initiatives for social development, inspired by the life of eighteenth-century Polish inventor, social activist and polymath Abraham Stern. The Foundation's work aims to support Polish-American cooperation by promoting the shared history of Poles of all backgrounds and highlighting their impact on the development of science, technology and innovation in the United States.
For more information about the Stern Leadership Academy, including answers to frequently asked questions, please visit the Foundation's website at: https://fundacjasterna.pl/sla-3
Read more about the Foundation on our website: